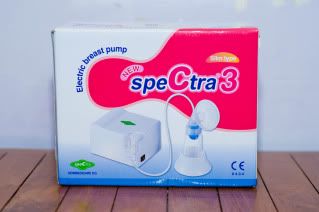 I am letting go my Spectra 3 breastpump as shown in the photo below. Good condition as it used for only 3 months.
Suction strength (mmHg): 0~260
Suction cycle (Cycles/minute): Approx. 29–35
Dual pumping option: Available
Suction settings: Adjustable
Weight(kg): Approx. 1.4kg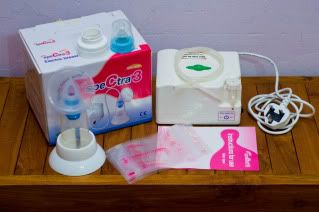 This is a FULL SET Spectra 3 together with box & accessories in the box. The components are:
- Spectra 3 breast pump main body
Advantages of Spectra 3 Electric Breastpump:
- Lighter compared to Spectra 2 for the ease of travelling
- Smaller size & compact design compared to Spectra 2 – no more bulky pumps which makes it ideal for home and office use
- Quiet operation compared to other electric breast pumps thus it is minimizing the disturbance to mother who wish to express breast milk in office or while travelling
- High suction power which result in shorter period of expressing breast milk & helps to draw out inverted nipples which is the common problem encountered by mothers
- Automatic suck-and-release rhythm that mimics baby suction rhythm which leads to more natural expression of breast milk and very comfortable to use
- Adjustable suction power that accommodate to individual's comfort level to maximize milk.
- Can be converted to double pumping by adding another breast shield set. Double pumping will help to maintain & enhance milk supply and reduce pumping time.
- Conversion kit is included to allow breast pump usage on either standard size or wide neck feeding bottles.
- Separable accessories (breast shield, tubing), it is easy to wash & sterilize.
- Long life span: most electric breastpump only works well less than 1 yr but spectra 3 is durable enough to last for years.
- Direct power supply – not battery operated so you don't have to keep buying batteries to operate it, which saves a lot of money!
This pump is value for money. The best part is it has double pumping option. It is very quiet (you can pump without the person in the next cubicle hearing it! (Yes, this has been tested!). It is convenient to bring along since it is not bulky. If you are a Medela user, you can use your existing pump parts as it is compatible. It also comes with a conversion kit which allows you to use wide neck bottles (ie. Avent). It now has a special cooler carrier bag which is designed to fit the Spectra 3 pump, complete with bottles and ice packs.
It does not have a battery pack. You must have power supply to use it.
- Comes from Muslim, Malay, smoke & pet free home.
- Reason for sale: My daughter not bf any more.
- Appreciate self collect at Penang or delivery by Post Malaysia.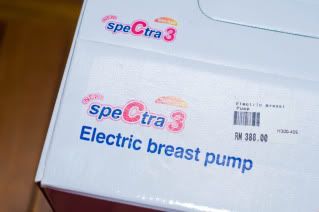 Selling price: RM299 ONLY
*STRICTLY NOT FOR FUSSY BUYER & FOR SERIUS BUYER ONLY!*