Alhamdulillah, 8 Nov lalu, A'isyah had her first flight experience. It was also my first experience flying with an infant. We decided to fly to attend Majlis Aqiqah Saffiya Amani, puteri sulung Abg Dullah & Kak Su, di Kelantan. Dalam masa yang sama, utk berkumpul satu keluarga sempena Aidiladha.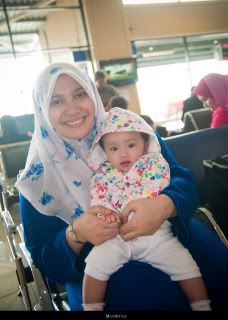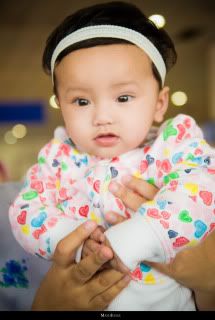 [Tak sabar nak naik plane! Yippeee!]
Mula-mula masa naik plane, bising juga la A'isyah. Habis 1 plane dengar A'isyah jerit-jerit. Tapi, lepas bagi susu, A'isyah minum & terus tidur. Keadaan kembali tenang. HEHE. Dari sini byk Mama belajar. Antaranya, when flying with an infant, we must take note that during take off and landing, we should give our baby something to drink to avoid discomfort cause by ear pressure.
So, here are a few tips untuk dikongsikan to prepare for baby's first flight:
Bring as much food for your baby as possible
Pihak penerbangan membenarkan parents to bring formula milk and bottle with water. Prepare them in such a way that if our baby needs to be fed, we can prepare the milk in no time. Dengan cara ini, dapat elak anak kita dari menangis & avoid inconvenience to other passengers.

Breastfeeding moms are lucky to have milk ready on demand while formula-feeders need to bring formula and water.
Bring toys to entertain our baby
Taknak bagi baby boring!

Change diapers
Tukar siap-siap lampin baby to avoid an unnecessary trip to the lavatory. Bukan semua plane ada changing table. Kalau ada pun it's most likely cramped and unsanitary based on the volume of passengers using it.

Keep our patience meter in check
Our parenting skills may be tested during a flight. Ada toys pun tak dapat membantu kalau ibu bapa itu kurang sabar. Lebih-lebih lagi bila penumpang lain mula jeling semacam.

Book a night flight if possible
Sebab baby kan tidur malam. Maka, tak kacau waktu tidur baby. Baby akan tidur sepanjang perjalanan.InsyaAllah.
Berbalik pada kisah A'isyah, second time naik plane dari Kelantan ke KL pula, A'isyah dah ok. Lega rasa bila A'isyah was behaving well during the entire journey. Dari rumah sampai la we reach the airport of our destination. And the result, either she is in deep sleep or her eyes freely observing the environment which is unfamiliar to her. Syukur semuanya dalam keadaan baik. Thank You Allah!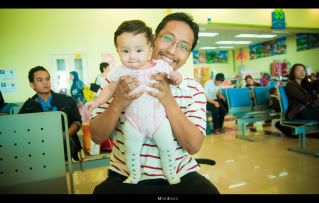 [Baba & A'isyah waktu tunggu plane nak balik KL semula]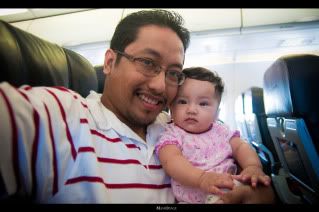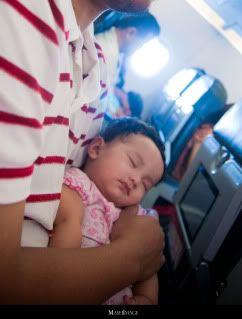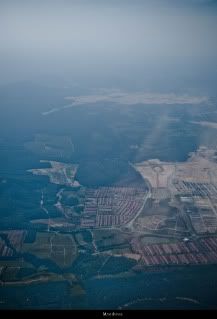 [Subhanallah! Ciptaan Allah. Cantik nampak hijau]
A'isyah, next time Mama bawa A'isyah naik ferry pula ya? :)